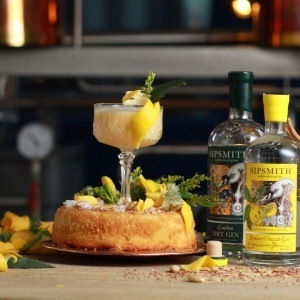 As we prepare for the holiday weekend, our thoughts turn to inventive ways to ensure this Easter is extra special.
Parks are dotted with golden-yellow daffodils swaying in the breeze and cherry trees across the country have burst into beautiful, pastel-pink blossom. It can only mean one thing – Easter is here. As everyone considers how to make the most of the long weekend, we wanted to share a few ideas to fill your days with gin-spiration. And chocolate, naturally.
Friday: Try a new sip 
Time on your hands? Explore our repository of gin cocktails. Simply select the gin you have to hand – whether it's our berry-packed Sloe Gin or classic London Dry Gin – then choose how complex you want the recipe to be and the taste you'd like to create – from aromatic to refreshing, sour to fruity. If you really want to keep things simple, though, our cocktail recipe book SIP makes use of just three easy-to-find ingredients. Set yourself the challenge of mastering a recipe every day of the holiday.

Saturday: Get baking
When the sun's shining, one gin instantly springs to mind – our Lemon Drizzle Gin. With the help of the wonderful Frances Quinn, we've crafted an easy-to-follow Lemon Drizzle Cake to serve as a delicious dessert or with afternoon tea.
To give the creation even more zesty freshness, pour the caster sugar into an airtight jar and add a few sprigs of lemon verbena. Fasten the lid, shake and allow to infuse overnight (or for a few days, if time allows).
Ingredients
150g butter, softened
150g caster sugar
3 lemons, zested, plus 5tbsp lemon juice
3 whole eggs
150g self-raising flour
3tbsp ground almond
15ml of Lemon Drizzle Gin
Method
Preheat your oven to 180ºC (160ºC for fan ovens). Sieve the caster sugar into the butter and combine until you have a smooth mixture. Stir in the lemon zest. Crack the eggs into a bowl and stir with a fork before pouring into the butter and sugar mixture.
Slowly sieve the self-raising flour and ground almonds, stopping at intervals to ensure they are stirred into the mixture, then add 3tbsp of the lemon juice (reserve the rest for later) and continue to stir. Pour the mixture into a ring cake tin with a hole in the middle and bake for 25 minutes.
While the cake is baking, combine 15ml of Lemon Drizzle Gin with the remaining 2tbsp of lemon juice. When the top of the cake is golden-brown, remove from the oven and leave to cool for a few minutes before poking holes in the top and brushing with the gin and lemon juice mixture.
For a sweet garnish, crush 15 sugar cubes in a pestle and mortar, or in a bowl with a rolling pin, and add the juice of 1 lemon and 15ml Sipsmith London Dry Gin. See a step-by-step guide here.
Sunday: Feast on chocolate
It's the season of Easter egg hunts and chocolate bunnies, but if – like us – you prefer to take a slightly more grown up approach to your chocolate appreciation, our Chocolate Orange Gift Set is the answer. Our hand-crafted Orange & Cacao Gin is complemented by a box of Charbonnel et Walker Chocolate Orange Thins. Hide them for a loved one to discover, or to enjoy these sweet treats all to yourself.
Monday: Discover more extraordinary gin
If discovering extraordinary gins from the comfort of your own home is something you want to get used to, start as you mean to go by joining our Sipping Society. Every other month, members receive two experimental creations from our boundary-pushing distillers and their beloved 50-litre still Cygnet. Previous offerings have included Very Sherry Gin and our Language of Flowers Gin, which is full of fragrant botanicals.
At the Distillery, we always try to see the bright side. And, while this Easter might be different to some of our previous long weekends, we hope you'll join us in discovering – and sharing – your at home gin adventures.