Seductively vermillion, bracingly bitter, complex yet refreshing – it's no wonder the iconic drink continues to enjoy a revival. To stir one up at home, follow our tips and take a look at the Negroni recipe below.
With its associations of Italian style and la bella vita, the Negroni has always had a blush of romanticism about it. And, like all classic cocktails, it was created many years ago in 1919 when Count Camillo Negroni marched into the Caffè Casoni in Florence.
Having been asked for a stronger version of an Americano – made with equal parts Campari, sweet vermouth and soda – the bartender swapped the soda water for gin and the rest is history.
Or is it? Dig a little digger and a second origin story emerges – one that features Count Pascal Negroni from France. In this version, the reimagined cocktail was a Milano-Torino, which is believed to predate the Americano. But let's not dwell on the past and instead turn our attention to the present as we share our perfect Negroni recipe.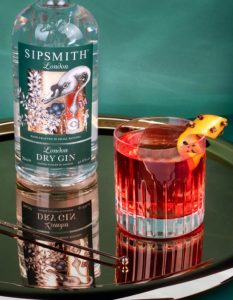 A COCKTAIL OF EQUAL PARTS
As one of our favourite gin cocktail recipes, a perfect Negroni is relatively straightforward to make. Famously, the classic recipe calls for 1:1:1 ratios of its three main ingredients (gin, Campari and sweet vermouth), making this an easy cocktail for home bartenders to mix up.
But, while this classic Negroni recipe produces reliably delicious results, we sometimes like to nudge up the proportion of gin for a final result that's beautifully balanced and oh-so sippable.
TO ICE OR NOT TO ICE?
Now, you might find yourself asking: shaken or stirred? Served straight up or on the rocks? And what kind of vermouth should you use? Let us answer all your questions.
Like any short, spirit-based drink that doesn't feature fruit juice, which tends to emulsify, a perfect Negroni doesn't need to be shaken. In fact, shaking will actually dilute the drink. Instead, it's best to layer up your Negroni in a tumbler over ice.
And, unlike a classic Martini, the Negroni works well served either straight up or on the rocks. If you prefer yours without ice, simply stir the ingredients over a few cubes before straining into a chilled coupette. On a personal note, however, we tend to enjoy a Negroni on the rocks for its sunny, aperitif quality. For this, adding a large block or sphere of ice is a good way to chill your drink without over-diluting.
THE BEST INGREDIENTS MAKE THE PERFECT NEGRONI
As for the sweet vermouth, there are a number of different options. We find that Carpano Antica is an excellent all-rounder for Negronis, while Cinzano Rosso also works well (as does Martini Rosso). For a Negroni of extra bitterness and complexity, rich and potent Punt e Mes is also a good selection.
When it comes to a garnish, orange is the classic choice. Some like to flame their twists, while others drop in whole slices for an extra citrusy boost. We say it depends on your mood as both are a good option.
25ml Campari
25ml sweet vermouth (Carpano Antica, Cinzano Rosso, or Punt e Mes)
In a mixing glass, give all three ingredients a few quick turns over ice until combined. Strain into a rocks glass over a large ice block or sphere (or no ice, if that's your preference) and garnish with an orange twist or slice.
Having perfected your serve, time to experiment by mixing up a White Negroni with Lillet and Luxardo Bitter Bianco or any other gin and vermouth cocktails, such as a blush-pink Clover Club or zesty St Clement's Fizz. Or try your hand at one of our delicious Negroni twists.