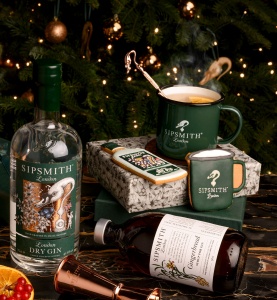 Making your list and checking it twice? Here are 12 brilliant Christmas gin gifts to buy for the ginthusiasts in your life.
Christmas may be well on its way, but there's no need to panic. We've made it easy to shop for the gin lovers in your life with this ultimate gift guide. From Christmassy gin stockings and ginful tree decorations to gin-infused chocolate truffles and other tempting treats, here are 12 perfect presents to pick up for all the ginthusiasts on your list.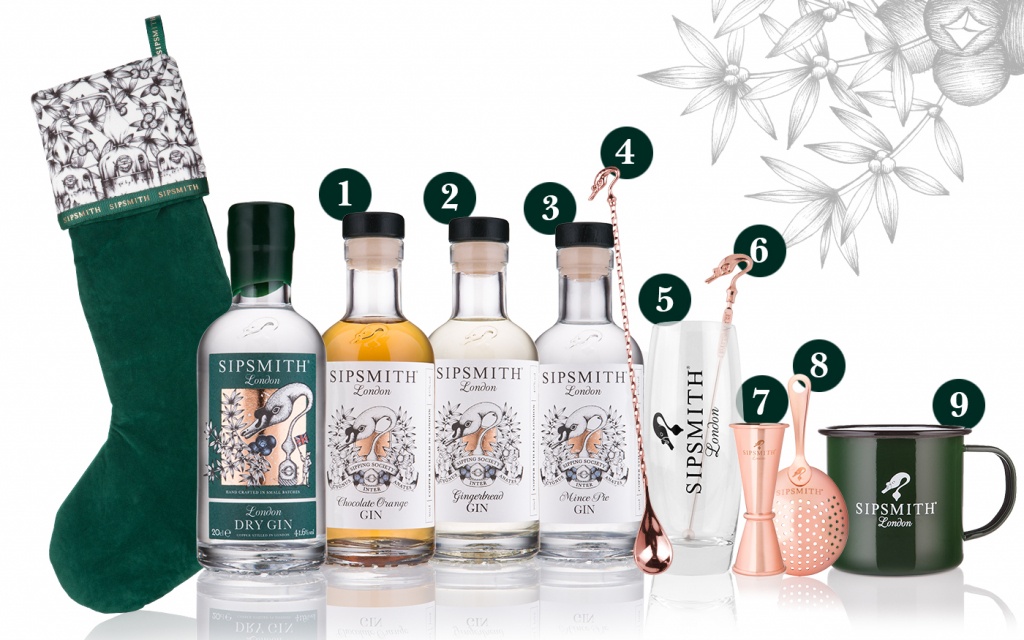 This year, you've got a new way to buy gin for your friends and family. We're pleased as punch to introduce our Christmas gin stockings—the first stockings on the market devoted solely to gin. For this customisable option, begin with a green velvet stocking, a 20cl bottle of Sipsmith London Dry Gin, and an exclusive gift-wrap set. From there, add up to six additional gifts, from bottles to barware—the contents are up to you.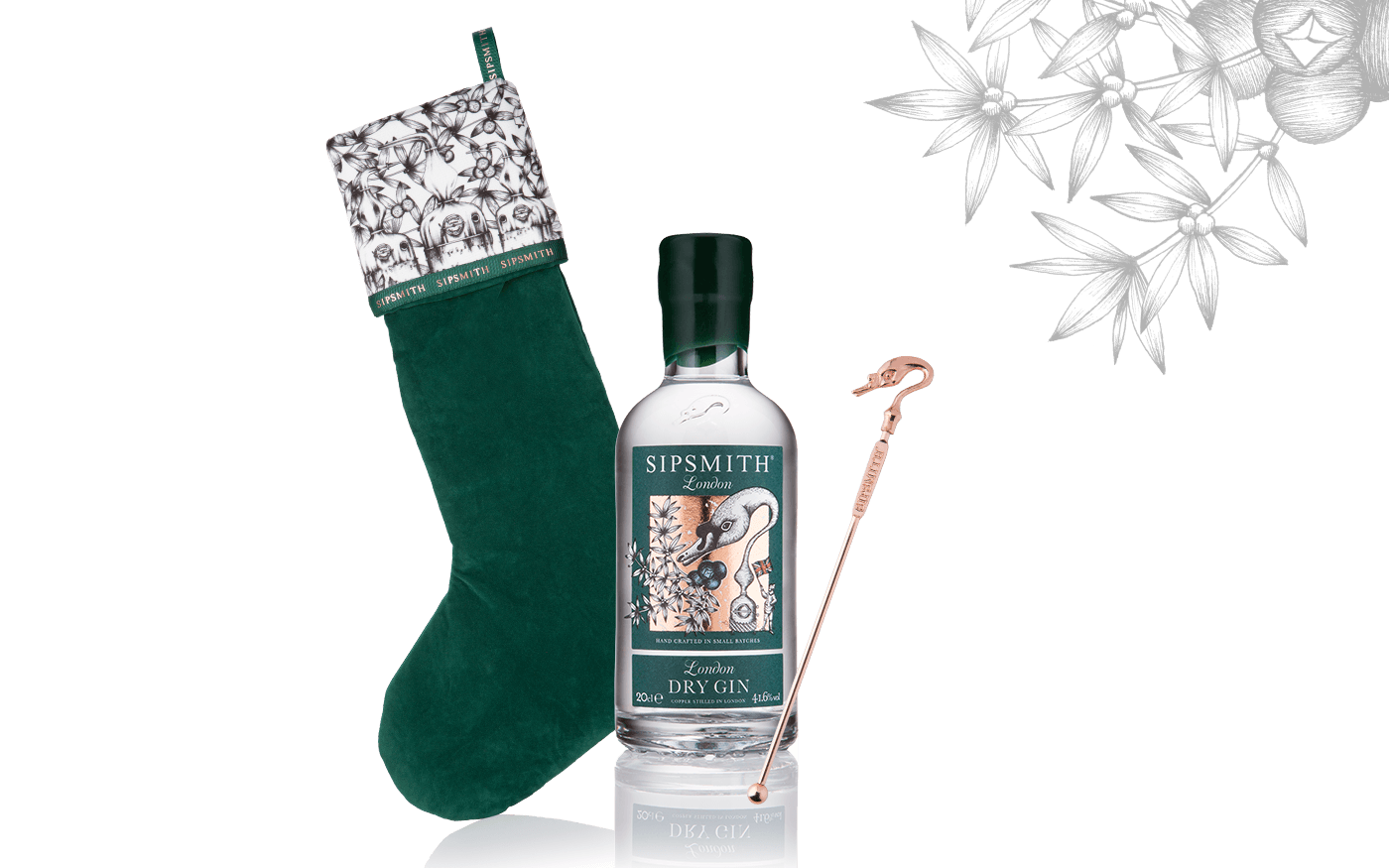 There's nothing like a gin stocking to surprise your favourite ginthusiast with on Christmas Morning.
In this delightful Christmas stocking, you'll find everything you need to stir up a refreshing Gin & Tonic—from a 20cl bottle of London Dry Gin and an elegant highball glass to a covetable copper drinks stirrer.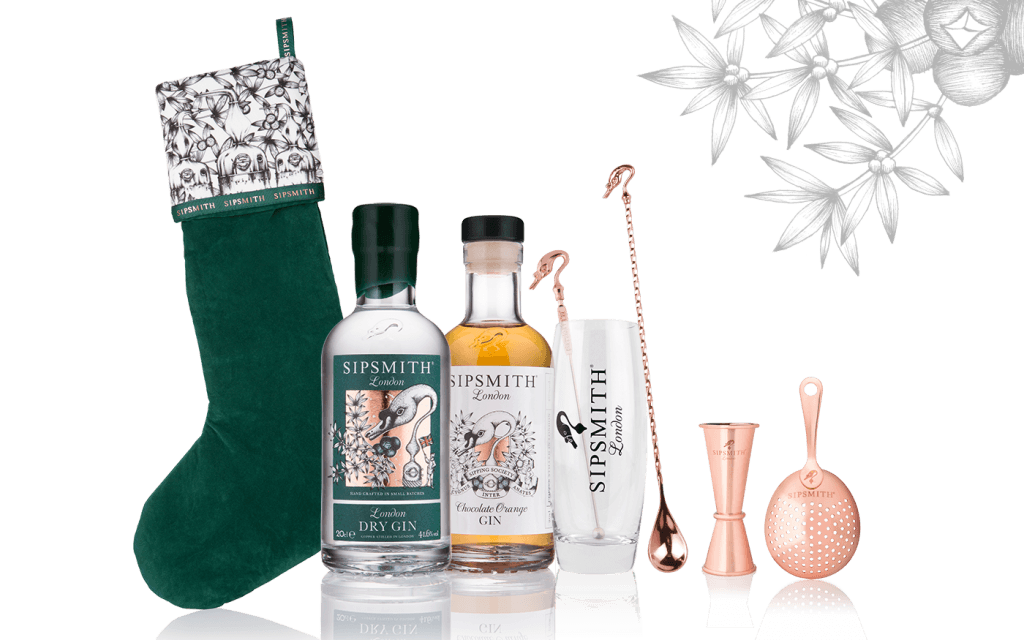 When you really want to treat your favourite ginthusiast, the Gin Lover's Christmas Stocking is bound to make an impression. For starters, it contains a highball glass and an entire copper barware set, including a jigger, barspoon, strainer, and cocktail stirrer. But barware is no use without gin, and so the stocking also includes a 20cl bottle of London Dry Gin and a 20cl bottle of our festive, limited-edition Chocolate Orange Gin.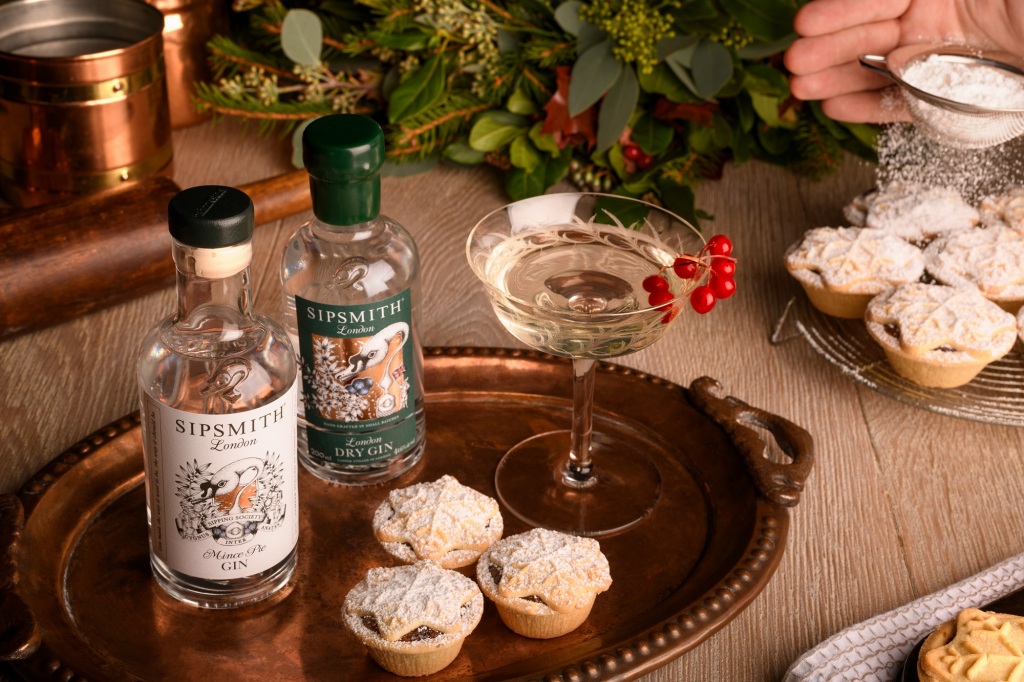 Sipping Society subscribers may remember our Mince Pie Gin: distilled using sultanas, raisins, and prunes, as well as a selection of Christmassy spices, it tastes irresistibly reminiscent of mince pies. It was so popular last year that we decided to bring it back. Purchase a set to receive a 20cl bottle of Mince Pie Gin, plus a 20cl bottle of London Dry Gin.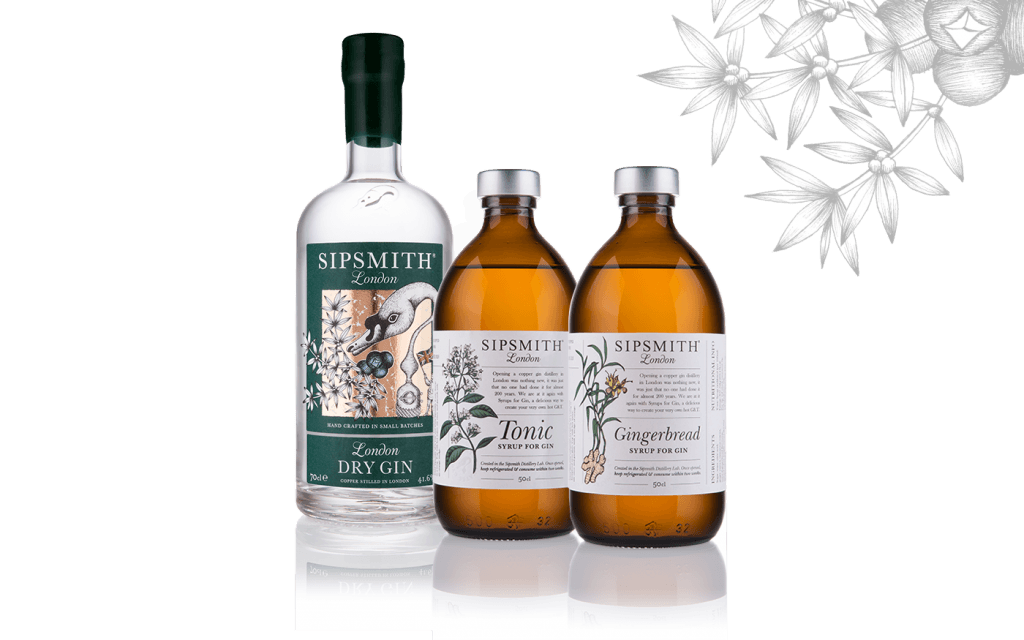 This gift set takes inspiration from the mugs of gin and toasty gingerbread that were served together during London's 17th-century Frost Fairs—the world's first recorded food and alcohol pairing. Inside this set, we've put together everything you need to make a warming Hot Gin & Ginger Toddy: a 70cl bottle of London Dry Gin, a 50cl bottle of Sipsmith Tonic Syrup, and our very own Gingerbread Syrup.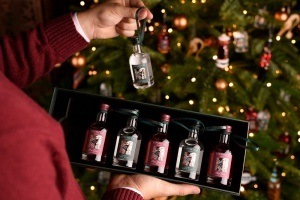 Baubles are beautiful, but bottles are better. This Christmas, festoon your tree with our Gin Christmas Tree Decorations. Each case includes six mini-bottles with ribbons attached; pick between London Dry Gin, Sloe Gin, or mixed case options.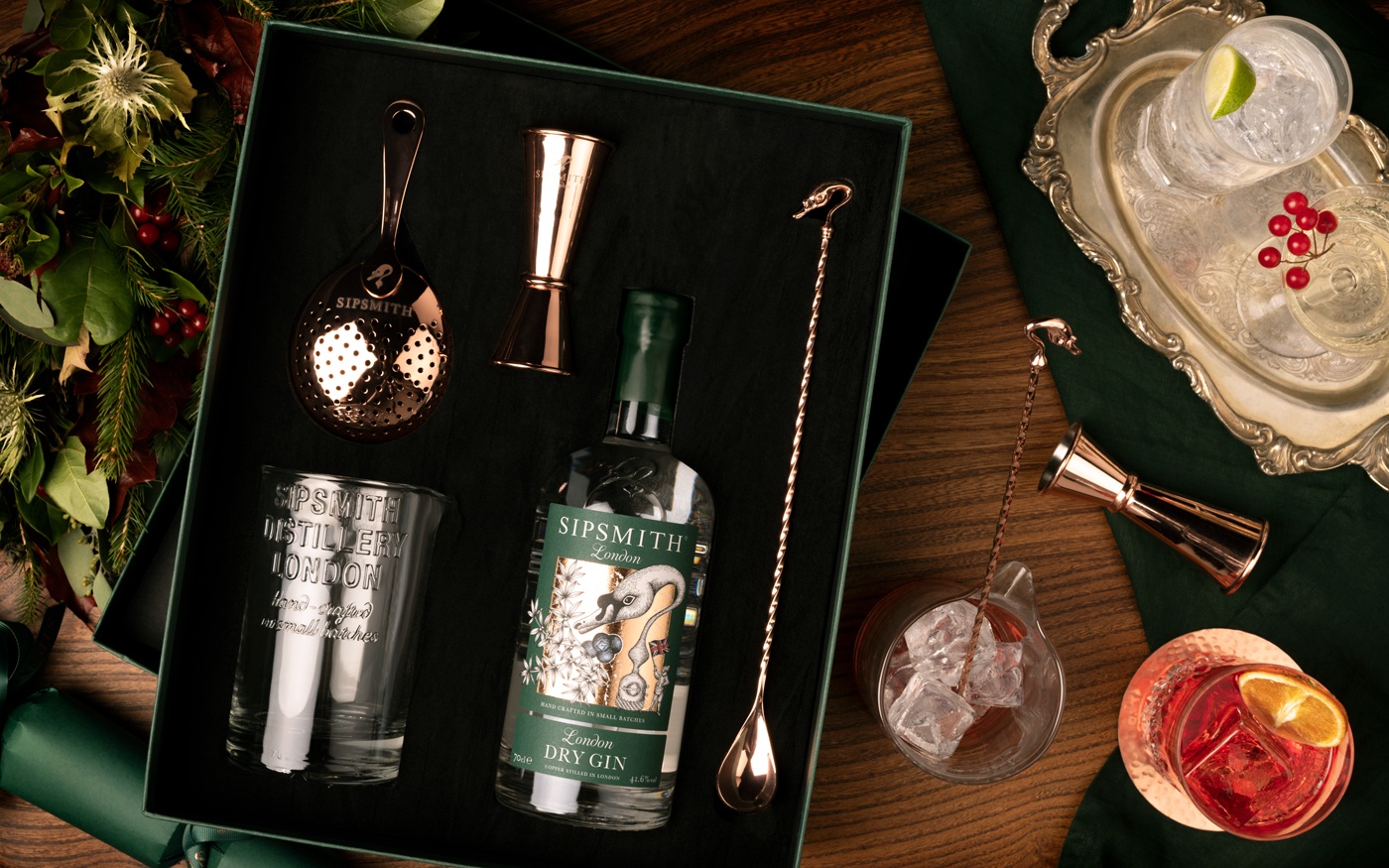 Treat the cocktail lovers in your life with our elegant Sipsmith Cocktail Set.
One of the ultimate gin lover's gifts this Christmas, our sophisticated Sipsmith Cocktail Set contains all the ingredients necessary to stir down a perfect Martini. Inside the emerald green box, we've tucked away a 20cl bottle of London Dry Gin, our elegant mixing glass, and a matching copper jigger, barspoon, and strainer.
8. Hot G&T Set, £40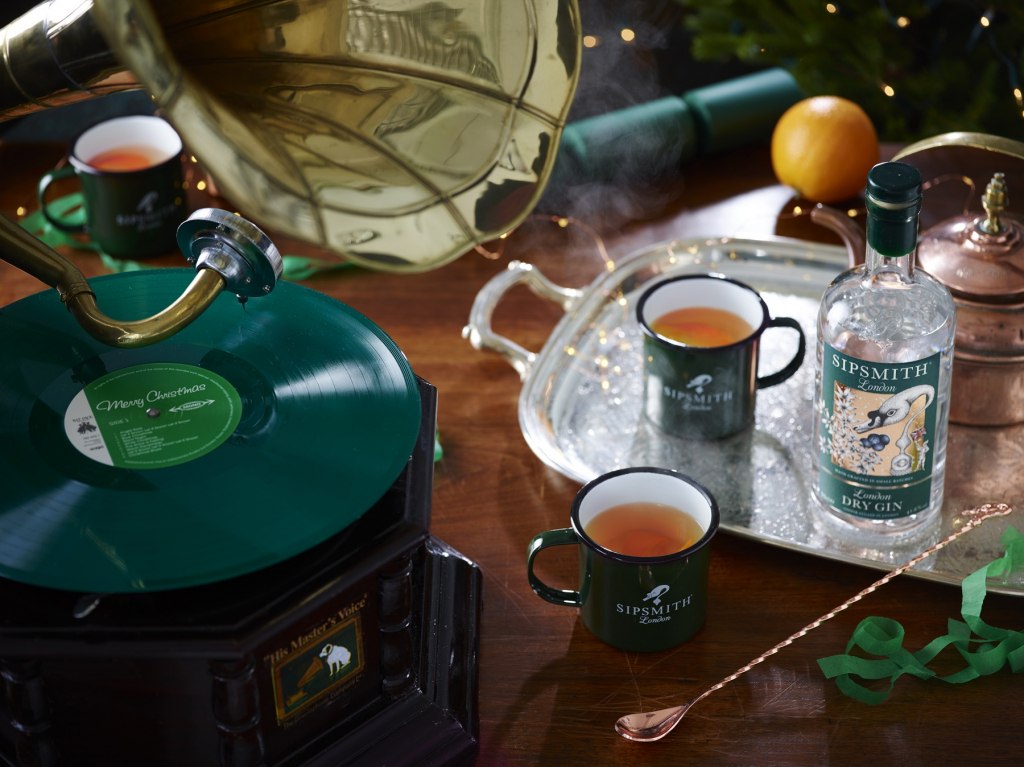 One of our favourite Christmas gin drinks is the Hot G&T (think of it as a ginful alternative to a traditional hot toddy), and this gift set makes it simple to whip up at home. Within, you'll find a 35cl bottle of Sipsmith London Dry Gin, ready-to-pour tonic syrup, a Hot G&T recipe card, and two mugs that are ready for toasting.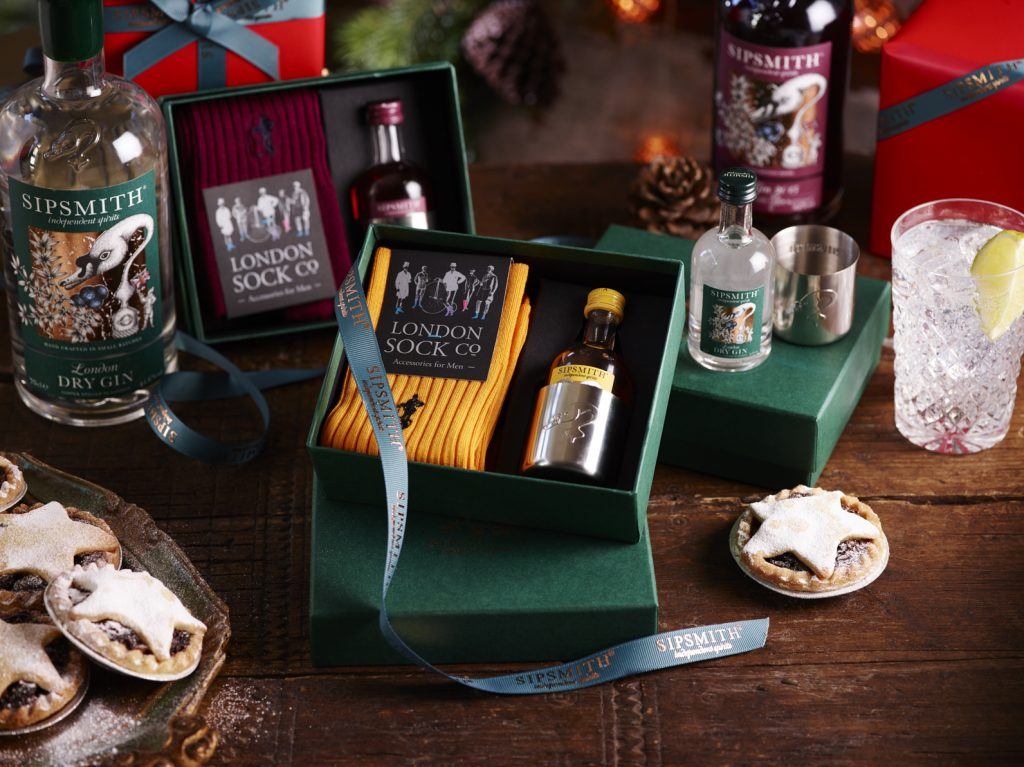 Socks not high on your Christmas wish list? Our London Sock Co. Gift Sets will change your mind. Within each, you'll find a pair of well-made, warm socks, available in three different vibrant hues. And with each: a mini bottle of matching London Dry Gin, Sloe Gin, or London Cup. They're a real recipe for cosiness.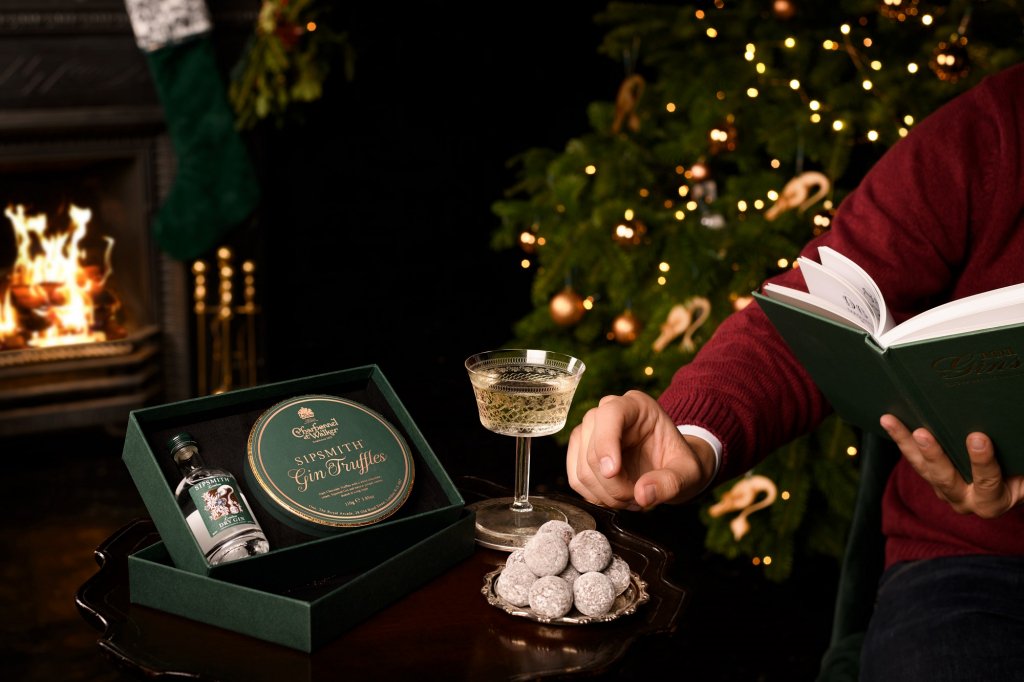 It isn't Christmas without chocolate…or gin. That's why our Gin and Truffle Set, made in partnership with Charbonnel et Walker, is the perfect gin gift. Each truffle is infused with London Dry Gin and enrobed in dark chocolate, for a perfectly decadent seasonal treat.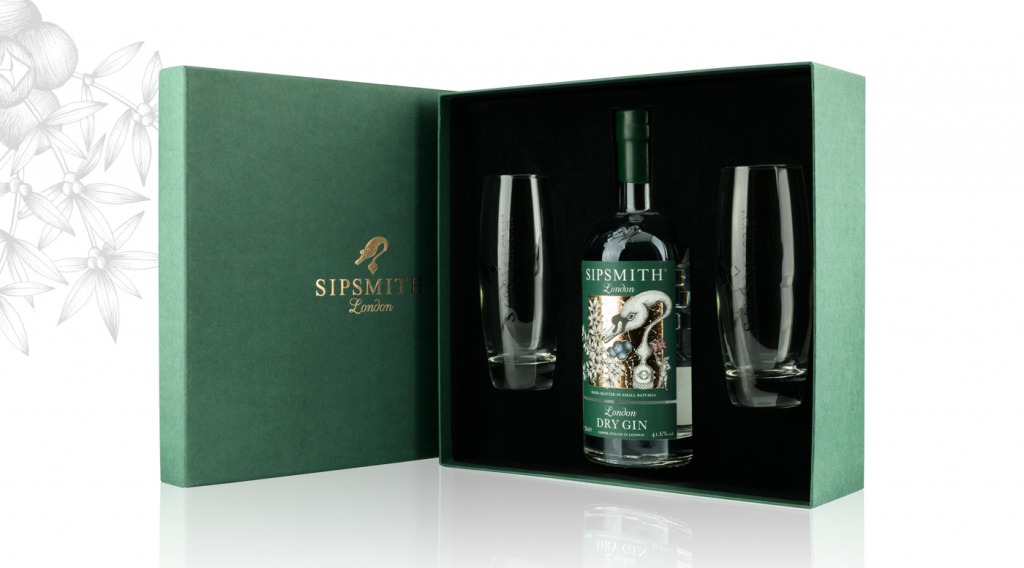 Still drinking cocktails out of rough-and-tumble tumblers or—even worse—Mason jars? Make this the year to upgrade on glassware. If G&Ts or highballs are your preferred serves, give the gift of this glassware set (and treat yourself to an extra set to bring home with you).
If you're after the perfect Secret Santa gift, we'd like to put forward our Sipsmith Tasting Set. Full of ginful delights, and perfectly sized to hide under the tree, it includes mini bottles of our London Dry Gin, Sloe Gin, and London Cup—plus three elegant tasting glasses that are perfect for sampling (or for winter drams).
Made in partnership with the esteemed craftspeople at Cambridge Satchel Company, our emerald-green cocktail satchel is perfect for bartenders on the go. Tote along your barware, bring your mixing glass, and don't forget a bottle or two of gin—handily, it comes filled with everything you need for cocktail making.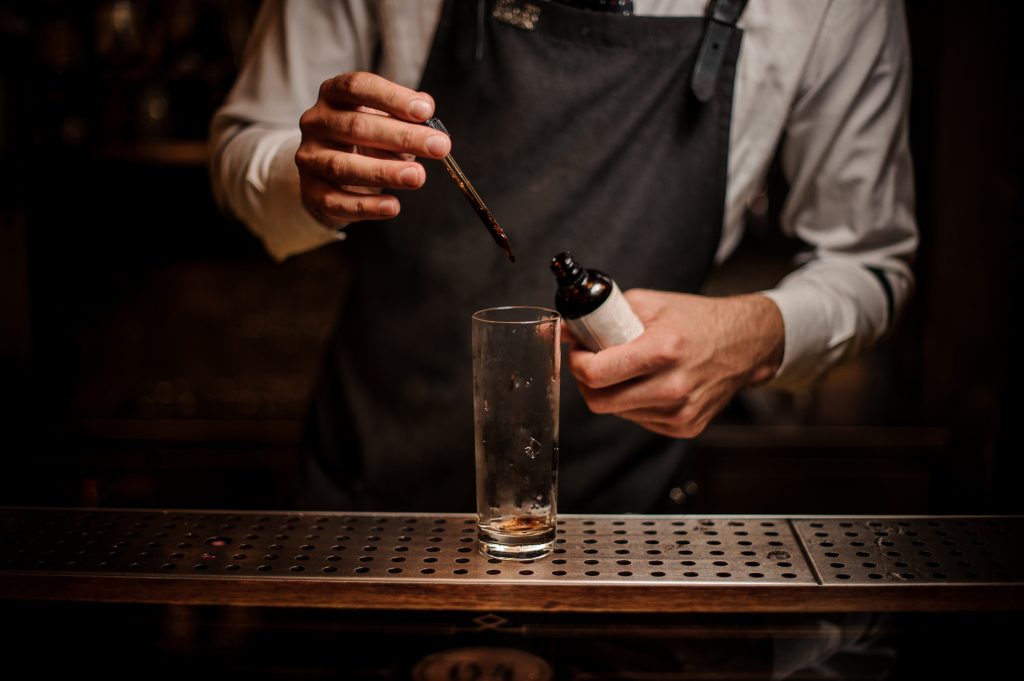 For the ginthusiasts in your life who prefer experiences to material gifts, a tutored cocktail masterclass—held right in our distillery—is sure to tempt. The course will teach you a number of key bartending techniques, and will invite you to shake and stir up three different cocktails. At the end of the session, walk away with a gift bag filled with treats.