As we look forward to sun-kissed summer days and balmy evenings, our thoughts turn to delicious gin serves that are designed for sharing.
From picnics in the park to backyard barbecues, the warmer weather is tempting us to spend more time outside. Whether you are planning an al fresco afternoon or an evening under the stars, these sensational cocktails have been created with sharing in mind.
Each of these recipes are ideal for a group of four to six discerning sippers, can be prepared in advance and are sure to go down a storm. Impress your friends and family with one of our favourite cocktails for groups. Simple to craft at home; build in a carafe, pitcher or punch bowl, add the ingredients, stir to combine and garnish before serving.
SHARING STRAWBERRY BASIL SMASH
Serve up a sharing cocktail that's sure to be a winner with any crowd. A tribute to the beautiful game – tennis, of course – we squeezed real Wimbledon strawberries to distil this sensational gin. This champion twist on the Gin Basil Smash uses bright and peppery basil to complement our London Dry Gin's traditional botanicals, simply combine the following ingredients over ice:
100ml white wine
150ml lemon juice
50ml sugar syrup
12-16 basil leaves
300ml apple juice
sliced strawberries, to garnish
From a Strawberry Smash G&T to a Strawberry Smash Spritz, our limited-edition Strawberry Smash Gin works perfectly in a variety of classic cocktails. However, if you are yet to experience our latest release, it's possible to use a sublime substitute in the form of Sipsmith London Dry Gin, instead – simply add a few extra strawberries for a fruity kick.
SHARING GINNY PEACH ICED TEA
This renowned and superbly sippable summer staple is given a peach twist in this recipe, thanks to the addition of a fruit puree. All you need to make this eminently British tea-infused cocktail is:
200ml Sipsmith London Dry Gin
350ml cold brew tea
100ml lemon juice
100ml peach puree (craft your own by placing a few fresh, frozen or tinned peeled peaches into a blender and blitz)
Thinly sliced peaches, to garnish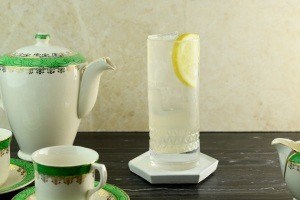 Proof that tea isn't only a morning drink, tea-infused gin cocktails can elevate the humble brew to something extra-special – such as our elegant Earl Grey Martini recipe, in which the floral and citrus notes of the tea mingle marvellously with our aromatic London Dry Gin.
SHARING MIMOSA
A sparkling Mimosa is an ideal way to get a romantic brunch ­or Sunday lunch off to a bubbly start. One of our favourite gin cocktails for groups, our Zesty Orange Gin's aromatic botanicals – including fresh orange peel and zingy citrus – pair perfectly with the freshly squeezed orange juice. To make this effervescent offering, you'll need:
200ml orange juice
250ml chilled soda
250ml prosecco
orange peel twists, to garnish
Add some fruity flair to your next serve with our classic and contemporary citrus cocktails featuring either Lemon Drizzle Gin – made with sun-dried lemon peel and lemon verbena – or Zesty Orange Gin.
SHARING GIN PALOMA
Traditionally made with tequila, our ginny version brings the fiesta to any al fresco setting. Once you've made the perfect pitcher of Paloma, resist the temptation to pour immediately and take a few seconds to prepare your guests' individual serves. Simply moisten the rim of each Rocks glass or tumbler with a little pink grapefruit juice, then dip in a saucer of salt to create a salted rim.
150ml Sipsmith London Dry Gin
100ml lime juice
200ml pink grapefruit juice
100ml sugar syrup
250ml soda water
pink grapefruit twists, to garnish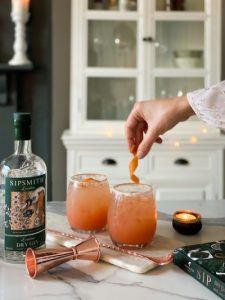 SHARING MOJITO
Serve a slice of summer with our ginny twist on the classic minty Mojito, which is sure to transport you to warmer climates with each sip. So, the next time you feel like a refreshingly tropical Mojito, swap out the traditional rum and replace it with gin for our Sipsmithian take on the classic Mojito recipe.
For this serve, you'll need to make a simple sugar syrup – find our easy recipe here. Once you are ready to sip, simply build in a pitcher and stir these fragrant ingredients: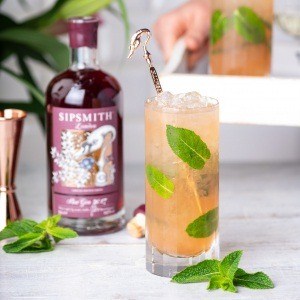 If you enjoyed the addition of zingy mint to this sharing gin cocktail, check out how to grow your own gin garnishes – from rosemary to basil – in your garden or on a kitchen windowsill with advice from Co-Founder, Master Distiller and keen gardener, Jared Brown.
Don't forget to take a photo of your sharing cocktail creations and tag us @sipsmith so we can see your bar-quality cocktails at home on social media.