Summer is the perfect season for sunny spritzes and refreshing fizzes. To celebrate the warm weather, stir up these 11 delicious, refreshing and eminently quenching summer gin cocktails.
The arrival of sun-drenched afternoons and long, light evenings is always an occasion worth celebrating and, if you're of the Sipsmith persuasion, that means stirring and shaking a few sensational summer gin cocktails. Every one of these cocktail recipes has our hand crafted gins at their heart.
Serve up our extra-special Strawberry Smash Gin, which marks our partnership with Wimbledon as their official gin partner, in this cocktail that's perfect for courtside sipping – or while catching all the tennis action on TV.
A fruity twist on a Tom Collins, make this summer gin cocktail by combining 50ml Strawberry Smash Gin, 15ml sugar syrup and the juice of half a lemon in an ice-filled highball glass. Top with soda water and garnish with freshly sliced strawberries and a lemon twist.
You can discover how to make a simple sugar syrup recipe, and find recipes for more homemade ingredients, with our guide to making gin syrups.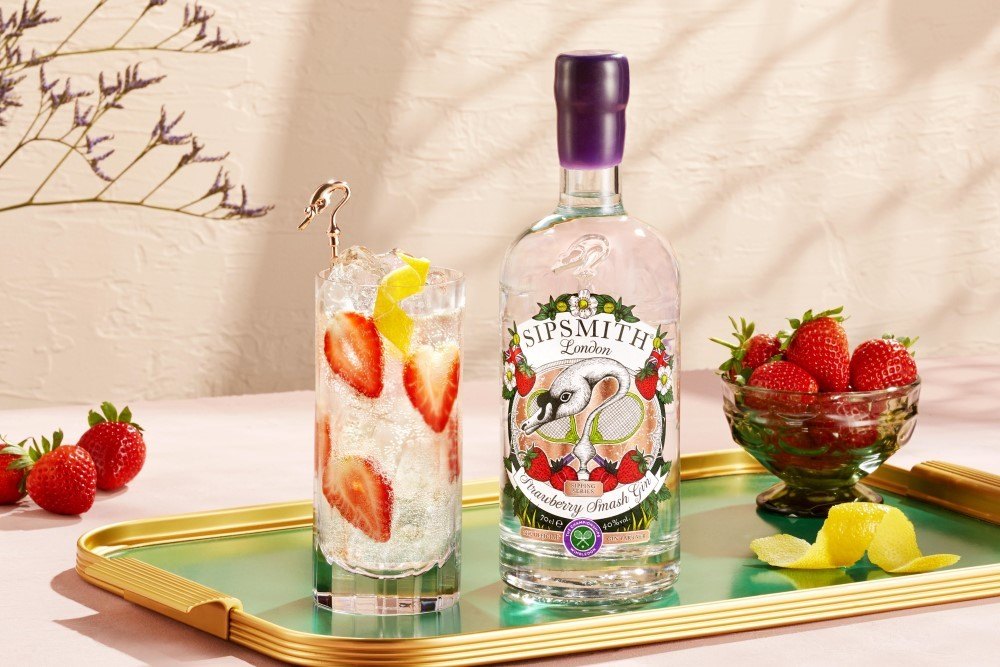 Gin and Prosecco prove to be perfect partners in this refreshing summertime spritz. Combine 40ml Sipsmith London Dry Gin, 10ml fino sherry, 20ml freshly squeezed lemon juice and 10ml sugar syrup in an ice-filled wine glass. Top with half soda water and half Prosecco, before adding an eye-catching finishing touch with fresh rhubarb and pomegranate seeds.
Pot-stilled and vapour-infused on our experimental still Cygnet, with a hint of English mint for perfectly balanced flavour, we present to you this unique twist on London Dry Gin – Strawberry Smash Gin.
Celebrating the announcement of our partnership with Wimbledon, as The Championship's official gin partner, this limited-edition drop was made using the 2020 Hugh Lowe Farms' strawberry harvest (official grower for Wimbledon). Taste the fruit of summer for yourself in some summer gin cocktails by pouring 50ml Strawberry Smash Gin into an ice-filled highball glass. Top up with chilled soda or premium tonic water and, for an added advantage, garnish with a few freshly sliced strawberries. Game, set… it's the perfect match.
There's nothing like gin and Prosecco to make even the most relaxed summertime picnics feel like an occasion – and our delectable Lemon Drizzle Gin adds to the sunshine feel. Pour 25ml Sipsmith Lemon Drizzle Gin, 25ml pink grapefruit juice and 10ml sugar syrup into an ice-filled shaker and shake well. Strain into a chilled flute and top up with Prosecco before garnishing with a fresh grapefruit wheel.
A final fizzy offering as we start to wrap our selection of summer gin cocktails, this classic spritz can be stirred and served in mere moments. In an ice-filled wine glass, pour over 50ml Sipsmith London Dry Gin, 25ml freshly squeezed lemon juice and 15ml sugar syrup, then top up with 100ml Prosecco and garnish with an apple slice.
Enjoy soaking up the sun with a summer gin cocktail in hand, and remember to tag us on social media @Sipsmith, tagging #PerfectYourServe so we can see your creations.