Master these 10 basic bartending techniques and you'll be well equipped to mix up almost any cocktail you fancy.
Just beginning to explore the world of home bartending? We've put together a quick guide to get you well on your way to becoming a mixological maestro (or at least someone who can prep classic gin serves with ease). Below, we're breaking down the basic bartending techniques and terminology that you'll need to make cocktails at home—and recommending a different cocktail recipe for each to ensure you get to test your newfound skills. Practice does make perfect, after all. 
1. Shaking
When should you shake your cocktails? If you've got syrups, fruit juices, or other mixers to emulsify (except anything carbonated, of course), then a serve is probably a good candidate for shaking. While three-part cobbler shakers look pretty (and have built-in strainers), two-piece Boston shakers are typically favoured by the pros for their larger capacity and efficiency. To shake, ensure your shaker contains lots of hard, very cold ice, seal well, hold with two hands, and agitate for at least 10-12 seconds to properly mix and dilute your ingredients.
Recipe: Corpse Reviver #2 
2. Stirring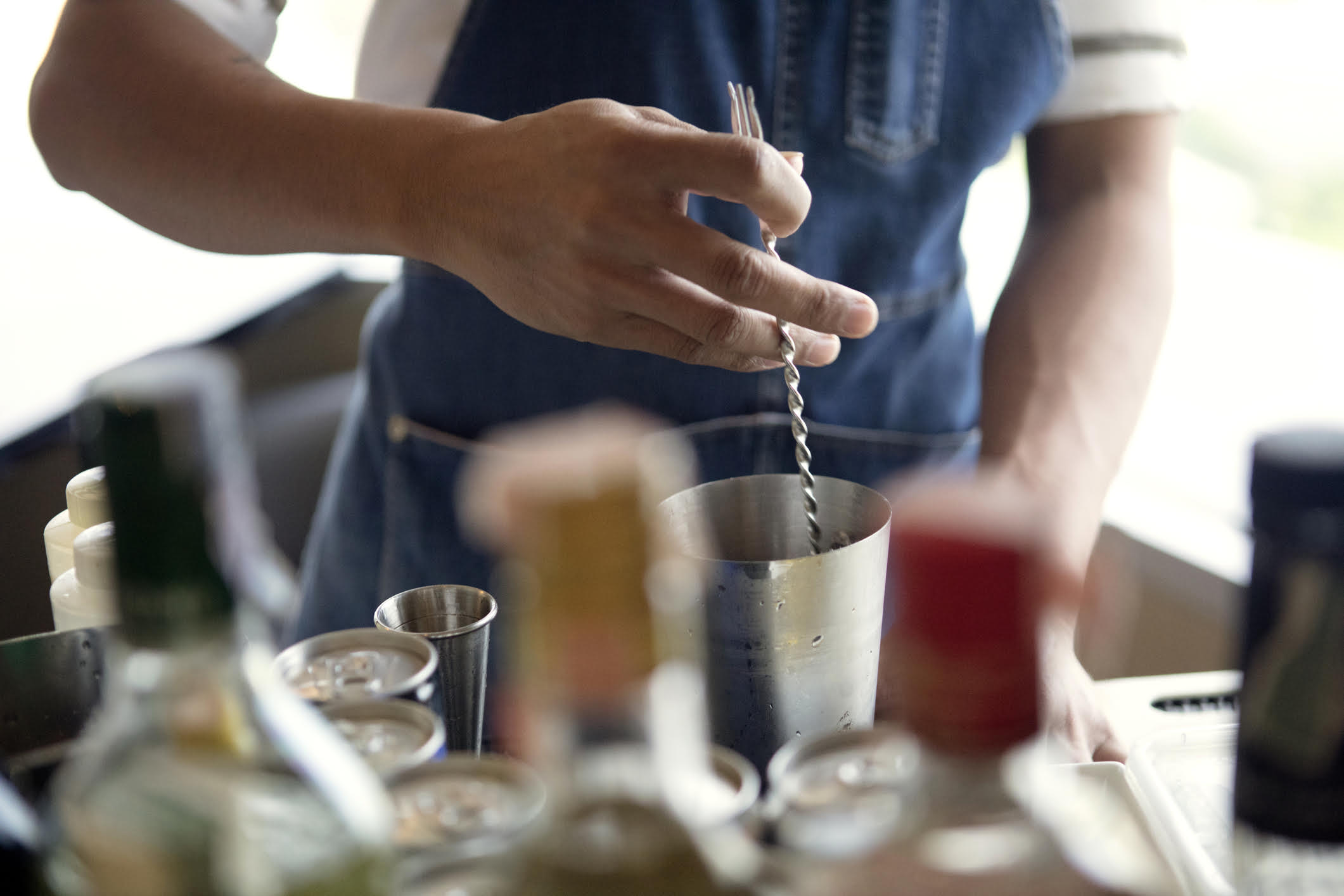 Unsure which cocktails to stir? Go for spirit-led numbers (and brush up on your technique).
Where shaking works best for fruity, mixer-driven cocktails, a short, spirit-led number is typically best stirred. This gentler method of mixing won't break off any ice shards, and makes for a more velvety texture. Whether you stir in a mixing glass, shaker, or other vessel, use a long-handled bar spoon, lots of ice, and stir for 20-30 seconds to properly chill and dilute. 
Recipe: Martini
3. Throwing
Come brunch o'clock, throwing is a basic bartending technique that's good to have in your arsenal. It's most frequently employed with Red Snappers and Bloody Marys—which shouldn't be overly agitated—and involves gently pouring the ingredients between two shakers. Fill one with ice and seal with a hawthorn strainer; fill the other with the ingredients and pour between the two. This video demonstration shows just how impressive the technique looks in action.
Recipe: Red Snapper
4. Muddling
Muddling is one misunderstood bartending technique. Many see the muddler's duty as mashing their ingredients into submission, but you don't want to use it so aggressively that you're left with a pulpy mess. Instead, use a long muddler to gently break down ingredients and release their flavour into the drink, pushing down and twisting with each muddle. Be sure to use a shaker or heavy-rimmed glass, too, so you don't risk breakage.
Recipe: Millionaire's Mule
5. Spanking
This technique may sound eyebrow-raising, but it's a) tamer than its name suggests, and b) couldn't be easier. Simply take a basil or mint leaf (or other delicate bit of greenery), place it on your palm, and spank it with your other hand. This expresses the oils in the leaf without destroying it, making for a prettier and more fragrant garnish.
Recipe: The Spanky Panky Martini
6. Double Straining
If you've muddled ingredients in your cocktail, added whole spices, or shaken it aggressively, you'll want to double strain to ensure the final result is clear and absent any floating particles. For this basic bartending technique, you'll use a hawthorn or julep strainer as usual, though will hold a handheld strainer or sieve below the shaker as you pour, ensuring the drink is twice-filtered before it reaches the glass.
Recipe: Rosewater Fizz
7. Dry Shaking
If you've got a frothy serve to make, double shaking is a key technique that helps ingredients properly emulsify.
When you're making flips, Ramos Gin Fizzes, or any drink that uses eggs or cream, dry shaking is a key to ensuring the end result is properly emulsified and aerated. First, add your ingredients to a shaker and shake for 20 or so seconds; then, open it up, fill with cold ice, seal, and shake again.
Recipe: Flippin' Sloe
8. Sweetening
If you want to sweeten your drinks, in most cases, sugar syrups are your best option: raw sugar adds grit and takes forever to dissolve amidst ice, but syrups meld into your drink instantly. The most basic sugar syrup involves a 1:1 ratio of sugar and water, which should be heated in a pan on the hob (until the sugar has dissolved and the mixture is viscous) and then left to cool. To make flavoured syrups, simply add fruit, spices, or other ingredients when the syrup is nearly ready to come off the heat, and leave to infuse for 30 or so minutes before straining.
Recipe: Lady in Red
9. Flaming
Flaming your citrus is the perfect way to add some pyrotechnics to your mixing. Oranges are the most common candidate for flaming, as the technique lightly caramelises their oils and adds a heady, burnt-sugar dimension to the serve. Using a paring knife, cut a perfect coin of orange peel, trying to avoid any pith. Position it above your drink, hold a lighter or lit match in front of it, and lightly squeeze; when the flammable oils are expressed, they'll burn in a quick puff of flame (here's a straightforward video demonstration). You can use this technique on a number of serves, but it works particularly well with spirited numbers like a Negroni or Martinez.
Recipe: Negroni
10. Floating
No, you won't be making your serve levitate with this basic bartending technique. Instead, floating is the process of finishing off a cocktail with a small amount of spirit, layered at the top of the drink. It's a slightly finicky process; the best way to float, however, is to angle a bar spoon into the drink and pour slowly down its twisted stem, which should deposit the ingredient correctly.
Recipe: Bramble
Feature images © AntGor/iStock; jacoblund/iStock; webphotographeer/iStock; fotostorm/iStock